Art & Glass Works Inc.
Art & Glass Works Inc. is a locally-owned and -operated art glass studio in Fort Myers, FL, specializing in custom stained glass, as well as sandblasted etched glass creations. With designs created for a wide range of purposes, Art & Glass Works Inc. adds an innovative beauty to any setting, residential or commercial.
Bringing Beautiful Works of Art to Life in Fort Myers, FL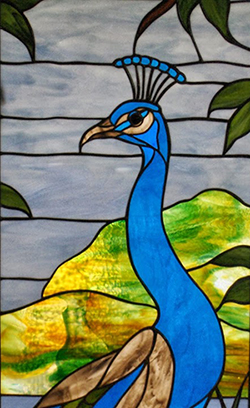 For custom-designed, breathtaking works of art, there's no better stained glass studio in Fort Myers, FL than Art & Glass Works Inc. Our owner, Barbara Burlingame, has worked hard to curate some of the very best designs and creations in the world of stained, sandblasted etched glass since 1980. Unlike other studios that use stencils to mass-produce glass, Barbara's designs are all hand-drawn and custom to every client! We bring your visions to life exactly the way you want them. We utilize the entire spectrum of colors, textures and clear glass patterns, and we design and fabricate stunning works of art for numerous applications. If there's a particular look you're going for, we can make it a reality!
The best custom stained glass in Fort Myers, FL can be found at Art & Glass Works Inc. Not only can we create a one-of-a-kind piece of art for each client, for their own unique setting, we can also work with you to envision something totally unique from the initial stages of conception. We create designs for front entrances, windows, cabinet doors, wall and wall niches, shower enclosures, furniture and much more. With more than 35 years of experience, we have met and advanced the challenge of old-world craftsmanship. And even if you do not have an idea in mind for your area, we will create a custom design for you. See what we have to offer you:
We specialize in stained glass, sandblasted etched glass creations.
You can make an appointment to visit our studio or we can come to you.
Our owner custom-designs work for every client, no matter the application.
We have nearly four decades of experience.
We're a locally-owned and -operated business.
Start Designing Today
Looking to have a custom made glass creation at your fingertips? Contact or visit us today for your chance to create an exclusive, beautiful work of art.
---
---
Areas Served
Providing Custom Glass and Window Etching in:
Fort Myers, FL
Cape Coral, FL
Naples, FL
Cypress Lake, FL
Whiskey Creek, FL
Lee County, FL
North Fort Myers, FL
Gateway, FL
San Carlos Park, FL
Iona, FL
Matlacha, FL
Pine Island, FL
Sanibel Island, FL
Captiva, FL
Estero, FL
Bonita Springs, FL
Miromar Lakes, FL